Whistle-blower unfairly dismissed
A West Midlands doctor won a complex employment tribunal claim, we read in a recent BBC news story. In 2010 heart consultant Dr Raj Mattu blew the whistle on two cases where patients died in an overcrowded ward at Walsgrave Hospital.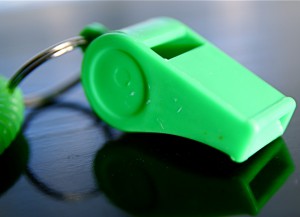 He said that a policy of putting five patients in four-bed bays in December 1999 meant that vital equipment could not be used to save the life of a 35-year-old man.
The legal term for blowing the whistle is 'making a protected disclosure'. The specialist decided to "go public" in September 2001, after a hospital manager appeared in television news reports insisting that lives had not been lost because of overcrowding. An NHS review in 2004 cleared the hospital of responsibility for any deaths in relation to overcrowding. He attracted media coverage and public interest.
After he raised the alarm he was suspended over
bullying allegations (of which he was cleared by the GMC) and then sacked. He appealed against his dismissal but lost. The judge ruled that he had suffered detrimental treatment as a consequence of being a whistle-blower, but that this wasn't the reason for the dismissal, which was an unfair dismissal on other grounds.
The employment tribunal said that his treatment was partly on the basis of disability discrimination but that his race was not a factor.The employer said it would consider appealing after reading the 400-page judgment.
Dr Mattu told BBC Radio 4's Today programme that the trust had made false allegations as a plausible reason to dismiss him, when the real reason had been his whistle-blowing.
"Scores of false allegations, some of them quite heinous, were put forward," he said.
The trust did not comment on the employment tribunal outcome.