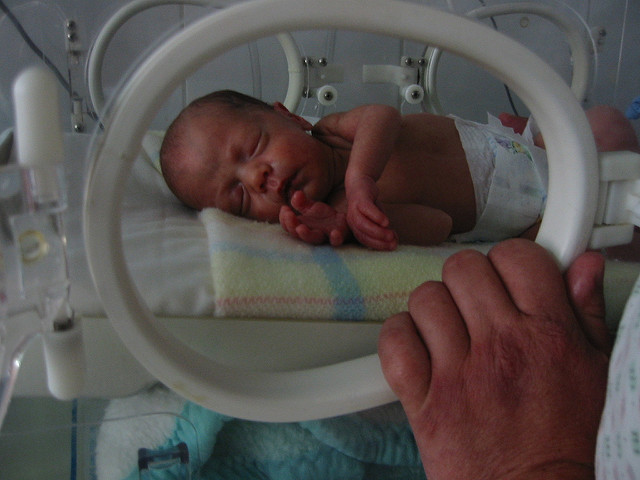 Paternity rights and premature babies
In light of news of this remarkable birth we highlight that recent press reports have highlighted that new fathers of premature babies have inadequate paternity rights. They have to return to work after just 2 weeks' leave.  Their tiny babies may be hospital for long periods of time with life-threatening complications.  The current paternity leave laws make no provision for this scenario.
How do new dads cope?
All they can do is hope they have an understanding employer, enhanced contractual paternity rights or be signed off sick so they can support their partner and baby (not always a clever move).   They could use parental leave but  this is usually unpaid and unaffordable for many .
Current paternity rights 
Statutory paternity leave is is limited to one or two weeks' paid leave to be taken after the birth and completed within 56 days of the birth – just 8 weeks.  The medical definition of a premature baby is at 37 weeks or earlier.  Most are born between eight and three weeks early, but some babies can survive if born up to 16 weeks early. Eight weeks is clearly insufficient time.  Babies born prematurely are also more likely to have a disability.
Over 60,000 babies are premature in the UK which is 7% of all births; a number that will affect many new fathers.  Not surprisingly, lobby groups are urging the government to do more to support these families by enhancing paternity rights when premature babies need more support from both parents.
What can employers do?
Employers might consider offering enhanced contractual paternity rights. Helpful additions might include
Additional paid leave
Allowing leave to be taken beyond the 56 days deadline if needed
Allowing temporary flexible working arrangements including part-time hours to allow for hospital visits
Varied start/finish times
Home working.
Alternatively, employers could introduce compassionate leave provision that could be used or even paid parental leave for certain circumstances.  Ensuring line managers understand the complexities of this scenario will also help them to navigate this successfully by supporting employees and balancing this with the needs of their business.
Employees who keep their employers informed of their situation will find most are supportive – many problems arise through lack of communication or miscommunication.  At a difficult time, they might even consider nominating a relative to speak for them.
Whether you are an employee or employer, we encourage you to talk to each other openly about the difficulties faced and agree practical ways to cope with this stressful time.
By Jenny Summers
Image courtesy of César Rincon
Related Posts